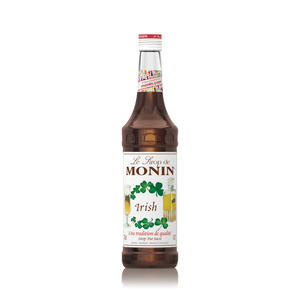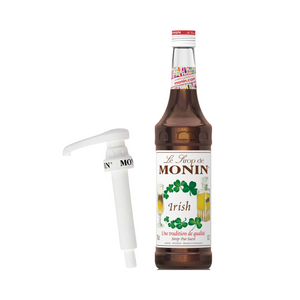 Description MONIN Irish syrup comes complete with a perfect blend of creamy, nutty, chocolate and vanilla flavours that will turn lattes, mochas and mocktails into a reason to say Sláinte.
Shamrocks Optional MONIN Irish syrup adds non-alcoholic deliciousness to lattes, mochas, smoothies and mocktails. Colour

Brown with amber glints.

Tasting Notes

Nose: Buttery with hints of roasted coffee
Attack: Creamy with strong roasted coffee
Length in Mouth: Mocha with toffee notes

Beverage Innovation Director's Tip

With its subtle combination of flavours, MONIN Irish syrup allows you to create tons of coffee based recipes or even dairy preparations. I like to mix it with fresh cream in a canister, in order to garnish an espresso.
Nespresso® Compatibility
Nespresso® Compatibility

All our Nespresso®* capsules or pods that we carry are compatible with all DeLonghi / Breville Nespresso®*
machines, including Le Cube, all Essenza models, all Citiz models, all Pixie models, all
Lattissima models, all U models, Maestria and Inissia coffee machines, Also compatible with B.coffee and Hi-brew coffee machines and other Nespresso®* system machines.
Pod, Capsule, Pad?

Pods are also known as coffee capsules and there are also the ESE or Easy Serving
Espresso pod/pads which are made from filter paper. However, the term 'pod' is the most often
used and is now synonymous with coffee capsules. They are made from aluminum or plastic
and were popularized by Nespresso. We chose to use the term "Capsule".
Shipping Policy
Any Shipping And Delivery Matters Are Governed By This Policy ("Shipping & Delivery Policy"):
(Free shipping for 3,000 worth of purchase.) Use this code on the checkout to claim your free delivery ( MSCOFREEDEL22)
T&C's
Free shipping is limited to the amount of 250 pesos shipping fee either standard or same-day delivery.
Order Processing and Delivery:
We are great believers in the importance of having your order processed, packed and shipped as soon as possible. Because great coffee cannot wait!!
All orders are processed the day they are received or the next day – depending on the time the order is confirmed. Shipping is activated based on which option is selected. 
Shipping Options
1. SAME DAY DELIVERY
:
Available for Metro Manila areas, Cavite & Laguna.


Same Day Delivery order cut off time is 3:30 pm. Orders received after 3:30pm are delivered next day. We deliver everyday including Saturdays, Sundays, and holidays.
The shipping fee is based on the distance of your location from the Monkeyspeak Makati Hub.
Rate for Same Day Delivery
- ₱49 Base Fare + ₱7/km
Shipping charges of your order will be calculated and displayed at checkout.


Our logistics team will use the best available from a selection of 3rd Party Couriers and our contracted riders to have your order delivered.
CASH ON DELIVERY:
Available for Metro Manila only.

You may select C.O.D at checkout.  The Same Day Delivery shipping fee will be added to your order, for settlement upon delivery.
Please note that COD can only be executed by our contracted riders and not a 3rd Party courier – therefore it may not always be possible to deliver same day.  Our logistics team will coordinate with you.
STANDARD DELIVERY: Available for Metro Manila and Nationwide.

You can process your order through checkout, select "pickup" and pay for the shipping separately once arranged. Please message us directly to arrange shipping:

Call or Message Lex +639173160488

Email: Info@monkeyspeakcoffee.com  FB @monkeyspeakcoffee

Standard delivery rate based on shipping company & delivery lead time 2 – 3 days in Metro Manila, 3 to 5 days in provinces.

We are bound by the opening hours of the courier drop off offices, which have a habit of changing without notification. We will always endeavor to ship your order the same day it is received or the following day, depending on the order timing.
Shipping rates do not include Insurance charges which will also apply at the time of shipping



PICK UP:



You are welcome to make your own arrangements to have the order collected during the Monkeyspeak Makati Hub opening hours. Select "PICK UP" at checkout, and once your order is confirmed as "READY" you may arrange the pickup.  Address and contact details will display.

Also please select the "PICK UP" option at check out to arrange Standard Shipping.  Please see "3" above.
Reviews
Excellent coffee. Masarap :) Works well with our Nespresso inissia.
Bonne G.